Nesbyen
Nesbyen is a famous mountain bike destination in Norway. It is best known among riders who are into enduro and downhill riding. The Norwegain national championship in downhill has been held at Nesbyen and they are also host for a popular enduro race every summer. The most famous trails is in the hillside called «Østsida». There are no ski lift here so either you take your own car to the top, you book a guide with shuttle service or you ride your bike to the top. It takes about 6 minutes to reach the top by car. Shortly after you see «Trytetjern» (local pond) you will find a parking lot on the left side.
How adapted all of these trails at «Østsida» are is a big question that needs an answer in the future. So fare we tested two trails with adaptive mountain bikes. Hopefully we will test more next summer.
Trytetrøkket
Trytetrøkket is a 1,6 km long trail along the pond Trytetjern and is very close to the parking space. It opened in 2017 and is designed to attract bikers at all ages and levels. It is a perfect trail for those of you that thinks the trails at the hillside «Østsida» is to steep. This trail is suitable for many types of adaptive mountain bikes. It's perfect for beginners and also as a warm up to the much more difficult "Den Ravinde".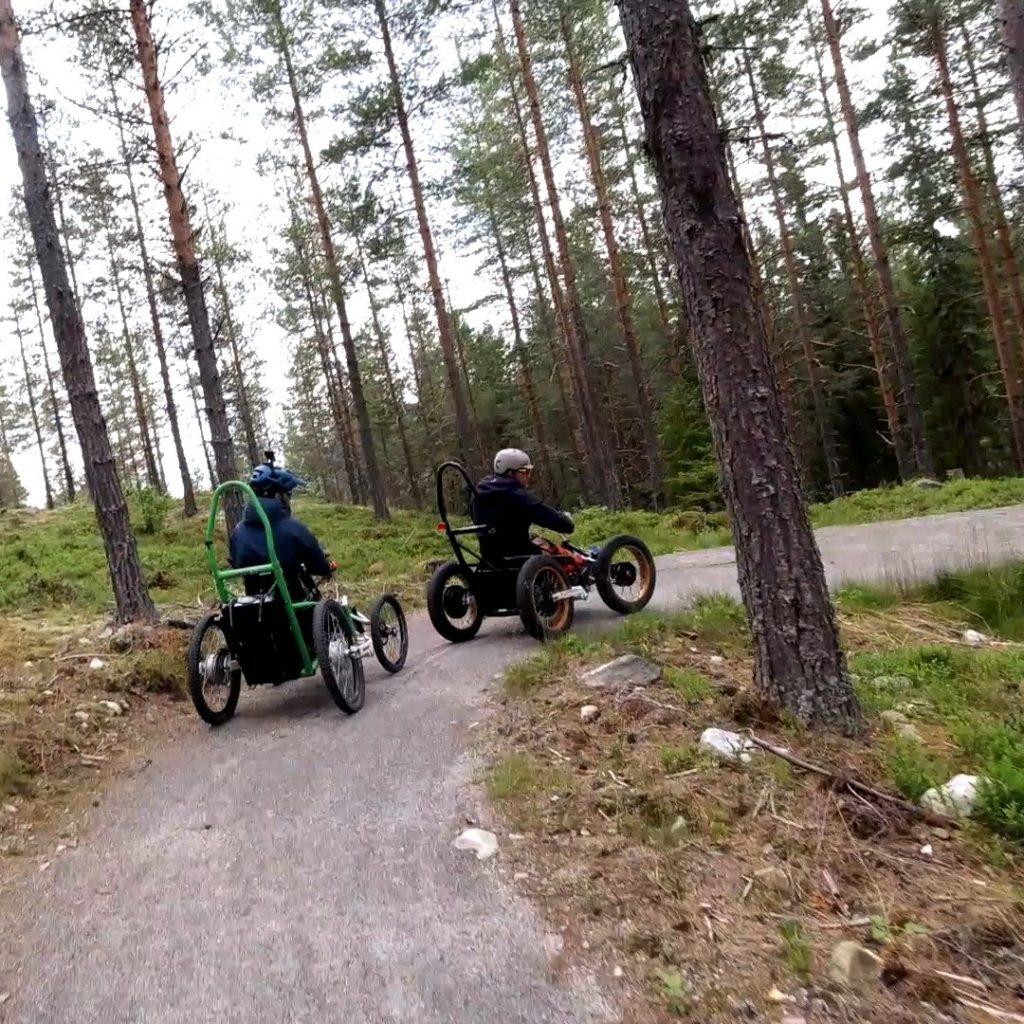 Den Ravinde
First of all, do not try to ride this trail without support riders!! This trail is known for being one of Norway's best flow trail and it was built in stages from 2016 to 2019. This trail is only partly accessible for adaptive riders. The top section starting close to the parking lot is rated red and is way to narrow for most adaptive bikes. The bike from Bowhead might be an exception. It is only the last section we have tried, and that section starts out as red rated. The very last part is rated blue. To access this part you need to follow the road back down a few kilometers until you meet a fire road called Midtlivegen (take a right turn of the main road). 

The trail will appear in a felling field (hogstfelt). The first part is quite tricky for an adaptive rider and there is two sections I would never ride without a support rider to make sure I want roll over down the steep hill side. The support rider should go off his bike and support the adaptive riders over the tricky sections. I think it is possible to ride it independently, but not before you tried several times with support. I would never take this chance because the stakes are high if you make a mistake. After the more tricky section the trail slowly gets less difficult and the last part is pure joy. Watch this video of Den Ravinde, the adaptive trail from Midtvegen starts at 03:10.