Trysil
Trysil Bike Arena
Trysil is an excellent spot for adaptive mountain biking. It is situated 200 km from Oslo and 170 km north of Oslo Airport Gardemoen. There is actually also an airport only 40 km away from Trysil called Scandinavian Airport. Here you can fly directly from several cities in Europe.

Trysil bike arena is build around Trysil Mountain. In the winter this is Norways biggest ski resort. Here you have biking for all ages and all levels. Everything from gravel roads to crazy freeriding elements. In the summer season the lift "Fjell ekspressen" are taking bikers to the top of the mountain. But many trails are accessible without taking the lift. There is also possible to go biking on the other side of Trysil river. I went for a beautiful ride in Bittermarka north of Trysil town. You will find a trail guide in the end of this page.

Accommodation
There are several hotels, apartments and cabins for rent at Trysil. For wheelchair users I highly recommend Radisson Blu Mountain. It has an excellent location, great wheelchair facilities and indoor parking for the bikes.


Gullia
Gullia is a forest area close to hotel Radisson Blu with built trails. It is a fairly flatt landscape, so no need for lift or shuttle. You can find maps for this area at the park entrance or in your hotel. The area consist of green, blue, red and black trails. For adaptive bikes all the green trails and some of the blue ones should be okay, depending of the width of your bike. Red and Black trails are too narrow for most adaptive bikes. The blue trails is obviously a little steeper and mote technical than the green ones.

With a Quadrix bike (90 cm in front – see picture) these are for sure fine: Green Fox, Happy Rabbit, Papa Bear, Lucky Ducky, Blueberry Swing, Sweet Dreams, Rookie, Tractor Hill and Zippy. King Lizard and Missing Link should be okay, but I never personally tried it (so no guaranteas). Woodpecker unfortunately has a long bridge that is too narrow for a Quadrix.

There are toilet facilities for wheelchair users at the nearby golf cafe and at the Radisson Blu hotel.

Magic Moose
Magic Moose is a 7 km long bike trail located right in the middle of the ski slope. This is one of the longest flow trails in Europe. Magic Moose is a blue trail and there are no jumps with gaps, difficult rock gardens and so on. The level is decided by your own speed. This trail is at least 1m wide so it is suitable for most amtb. But I would not go down on a bike without suspension. You should also have a bike with pedal or motor. Bikes like Quadrix Ibex with no e-assist or pedaling is not recommended, unless you are a experienced rider who can keep the speed up in every turn.

The most easy access is with the chair lift or if you have motor with throttle you can also take the bike up to the top on a gravel road. Follow the gravel car road almost all the way to Knettsetra. When you see the sign and road to the left to Knettsetra just keep on straight ahead (if you don't want to buy something to eat at Knettsetra, or use the toilets). Keep on all the way until you meet the gravel trail "Fjellrunden". Take a left and follow "Fjellrunden" all the way to the top of the chair lift.


Fjellflyten
Fjellflyten offer a fantastic view of Fageråsen and the hight mountain. It is super flowy and nice! It is 1,7 km long and to reach it follow "Fjellrunden" to the top of Fageråsen. Like many other trails at Trysil Bike Arena this is a "one way only" trail. Some of the bridges are a little narrow, but my bike can make it (90 cm wide in front). The trail end up at Fageråsen mountain resort where you can find accessible toilets, restaurants and some shops (check for opening hours).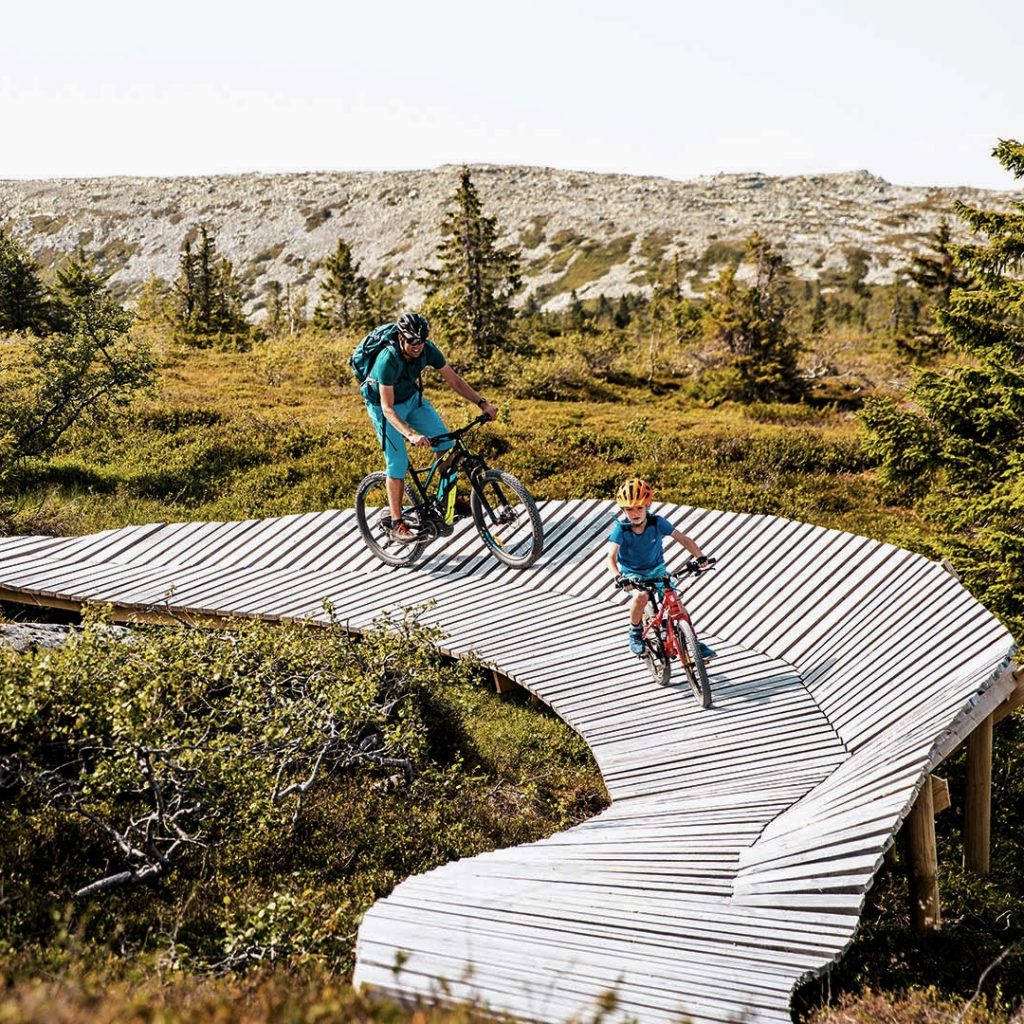 Fjellrunden
Fjellrunden is a 13 km long gravel road for both hikers and bikers. You can try to ride this trail in both direction. It starts end ends at the same spot and takes you all the way around the Trysil mountain. A good starting point is "Fageråsen / Trysil Høyfjellsenter. Here you have accessible toilets, shops and restaurants (check for opening hours). Fjellrunden is accessible with many kind of adaptive bikes, not only full suspension ones. Unless you are really fit I recommend e-assist. If you want to ride it together with "Fjellflyten" you should ride it clockwise.

Bittermarka – Støtriset
Bittermarka is not a part of the machine built Trysil Bike Arena. However it is a beautiful mountain area north of Trysil. Here you will find beautiful old cabins, fishing lakes and a lot of walking trails (marked by "Turistforeningen"). These are not built for biking but with an adaptive bike with a strong electrical motor and good stability it will work to use a few of these trails. I only tried with a Quadrix Watts and I will not guarantee it will work with other bikes.

From the town center follow the road north (do not cross the river) and drive to a barrier. Pay the toll and continue for about 35 minutes. Then take left into the road "Støtrisvegen". Follow this road until it stops at a parking lot. Take the trail to the left (west) when you are facing away from the road.

The first meter will take you through some bush and are the most tricky part. It gets a lot better when you get above the tree line. When you get up the first hilltop, take the first possible trail to the right. Follow this all the way to the top. Here you will find a cairn ("varde" in Norwegian). I followed the trail a little further before I turned and followed the same trail back to the car. There is much more trails to explore in this area. Do not descend too much, you will find a lot of swamps in the lower terrain.